Artists from Lapstone to Linden in the Blue Mountains will open their studio doors to the public for the Blue Mountains Arts Trail on Saturday 1st and Sunday 2nd September 2018.
Christine Hyde is just one of the 16 artists participating in the Arts Trail. Christine is a prolific artist where much of her inspiration comes from her property in the Blue Mountains and previous travels of the outback from her former employment roles. The move to the Blue Mountains from Sydney gave Christine the much needed time and space to recommence a long lost love – creating art.

The preference for drawing rather than taking lessons in Latin from school remains with her to this day. Ironically teaching preoccupied much of Christine's working life where professional development roles within the confines of university and later setting up of boards in the Parramatta Aboriginal Land Councils left little time for art.

Christine has been showcasing her art in many galleries such as The Everglades in Leura, Norman Lindsay Gallery Café and soon to have a showing in Gallery One 88 this September. Some art has landed in faraway places like Paris and has had pieces commissioned here in the mountains too. Her work has embraced many mediums such as watercolours, oils, acrylics and her new found love of alcohol and acrylic inks.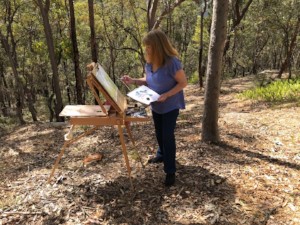 Pic: Christine Hyde painting in the mountains.
When an opportunity arises for Christine to visit her favourite country France, her mind is thinking like an artist. Christine aspires to show some of her artworks in alcohol and acrylic inks in a small exhibition in Paris and perhaps Limoges. Even a pop up stall in Belleville (an arrondissement of Paris) would be something that Christine is considering while there.

Come and see Christine's unique impressionistic take on some of our indigenous flora, fauna and everyday life scenes, it makes for distinctive and awe-inspiring pieces to adorn any wall space.


Some 16 studios are participating in stage 3 of the Arts Trail, with all kinds of art on show, ranging from paintings to pottery, mosaics to multimedia, photography, jewellery, ceramics, glassworks, encaustic wax, sculpture and more.
Arts Trail is free and visitors can plan their visits using the map of participating galleries available at https://artstrail.org.au/arts-trail.php.
Main Pic: Painting, 'Flight of Fantasy' by Christine Hyde.

27 Aug 2018
Posted 3 years ago